MIDI Manuals Home Page
Latest version: 1.09
MIDI Manuals is a Windows application allowing you to split your MIDI Keyboard into the two independent manuals (zones) even the keyboard itself doesn't support zone splitting. You can assing any MIDI instrument (patch) to each manual and play both hands simultaneously. You can't achieve that using popular sequencers like Cakewalk, Cubase or Logic Audio.
You can also overlap the manuals producing combined sound of two instruments together. If you overlap the manuals and transpose one of them, you'll get a two-tone chord by pressing single key.
If you like realtime keyboard performance, it's a tool for you.
Features
Split your keyboard into two independent zones even the keyboard doesn't support zones.
Transpose each zone up or down in semitone steps.
Support for General MIDI (GM) instrument set.
Support for Rolans GS, Yamaha XG and TB Cancun instrument sets.
Support for bank selection with three different selection methods.
Support for auto and manual Bank/Patch refreshing.
Screeenshot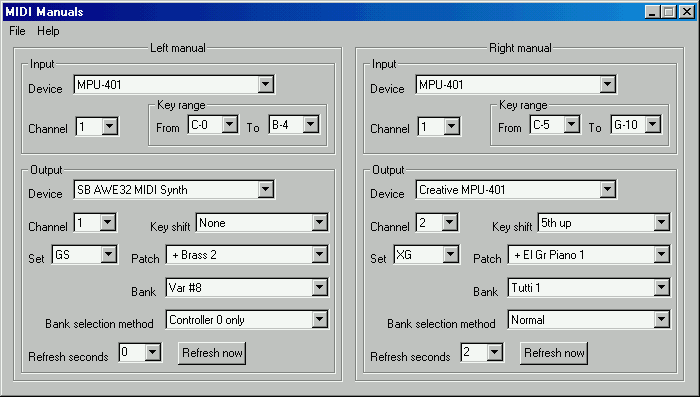 Download
MIDI Manuals is distributed freely.
Download the MIDI Manuals version 1.09 (74 kb)
Release history
1.09 (23.02.03)
Fixed load settings bugs.
1.08 (22.02.03)
Fixed some bugs.
Added a configuration save/load feature.
Added a bank/patch refresh capability.
1.00 (08.07.01)
Support
If you have experienced any problems with MIDI Manuals, please contact me. See the Support chapter in the Manual for the request format guidelines.
Other software from me
If you want to explore my other programs, please visit the Eugene Muzychenko Software Homepage.